Managed IT Services Perth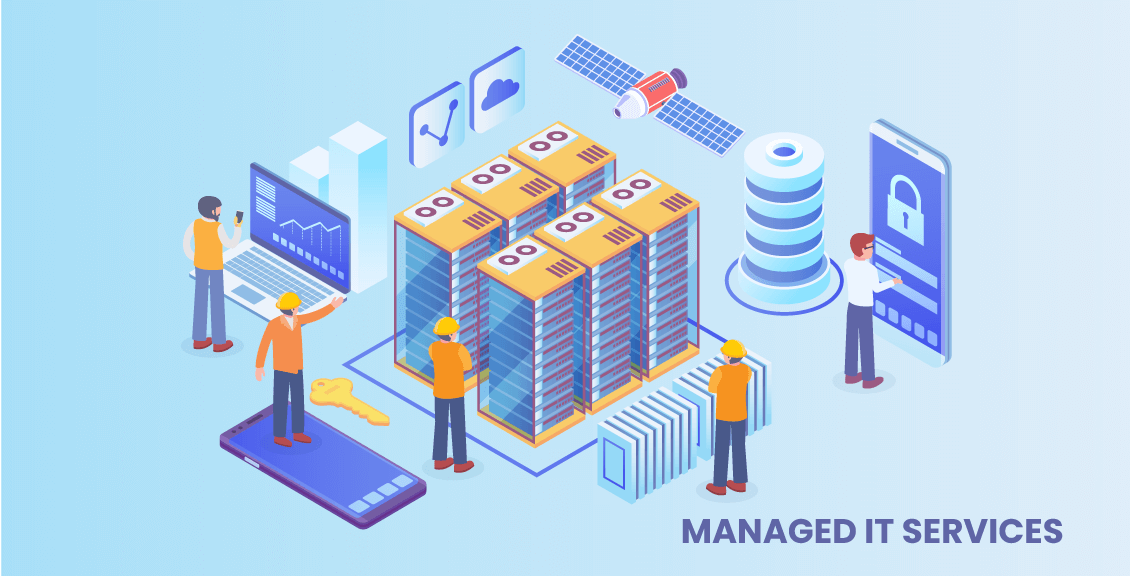 DM1 makes light work of complex computer systems and server maintenance. Our Managed IT Services in Perth, Western Australia, are designed to proactively monitor your IT infrastructure to ensure maximum up time (and minimal downtime). We also guarantee optimal function, up to date maintenance, security and monthly reporting.
We offer this all in one IT outsourcing solution so that you and your team can function on more important business operations. That is, maximising your companies growth, rather than wasting precious time fixing complicated problems with your IT systems.
The IT Support Your Business Needs
In this modern information technology age, every great business needs the best in IT support.
Our managed IT services are split into the following components:
1. IT infrastructure
We work with you to install the correct hardware and equipment to cope with the unique demands of your businesses' daily operations. We also keep abreast of all of the latest developments in new technology so that we can suggest improvements to keep your business right on the cutting edge.
2. Preventative IT solutions
Our expert team will proactively monitor your IT systems to spot bottlenecks ahead of time and minimise disruptions. Routine system maintenance ensures the timely application of patches and system updates. Weekly checklists ensure optimal system health and performance.
3. Proactive IT Support & Helpdesk
When unforeseen technical problems arise, our Australian based IT support team are on hand to quickly fix problems and provide step-by-step solutions. IT consulting can be done remotely, or for more complex cases, an on-site technician can be dispatched.
4. Cyber-security
Protecting company data is essential. Cyber attacks are becoming more prevalent than ever before. Our managed IT cybersecurity experts routinely scan for viruses and malware. We also ensure anti-virus databases are kept up to date so that new viruses cannot infect your system.
5. Backup & Disaster Recovery
Part of the business continuity planning involved in our managed service includes data recovery and backup. This is a fail-safe step should hardware accidentally fail or in the even of a successful cyber attack.
6. Cloud Solutions
As your IT partner, we ensure you can access your data when and where you need it. Part of this is installing and maintaining cost-effective cloud computing solutions. Access your email and computer systems on the go via laptop or smart device. We are experts in all of the major service providers such as Microsoft Office365.
7. Monthly Reporting
We provide feedback about your critical IT systems on a regular basis so that you can make informed decisions for your businesses IT management.
Benefits of an IT Managed Service
Having the professional services of DM1 as your own personal IT department gives you the following benefits:
Predictable flat monthly fees allow you to cut down on operational costs and budget effectively
Frees up your staff time and resources to focus on business core operations
Up to date hardware, software and system management solutions
Peace of mind with the latest security solutions for protection from cyber attacks and data theft
Expert, priority service desk support whenever something goes wrong
IT solutions tailored to your unique business needs
Managed IT Services FAQ
Q. What is meant by managed IT services?
A. An IT managed services involves outsourcing all of your IT system installation, maintenance and monitoring to an external IT company. This includes proactive monitoring, application of patches and upgrades, providing remote or onsite support, as well as maintaining proper cybersecurity systems.
Q. Why choose managed IT services?
A. Aside from the peace of mind of having professionals manage your complicated computer needs, a managed IT service frees up your staff as well as allows proper budgeting with fixed fees. The benefits of managed IT services are outlined in our article above.
Q. How much do managed IT services cost?
A. Fees for this service vary depending on the size of your computer network and your companies unique needs. Contact us for an obligation free quote.